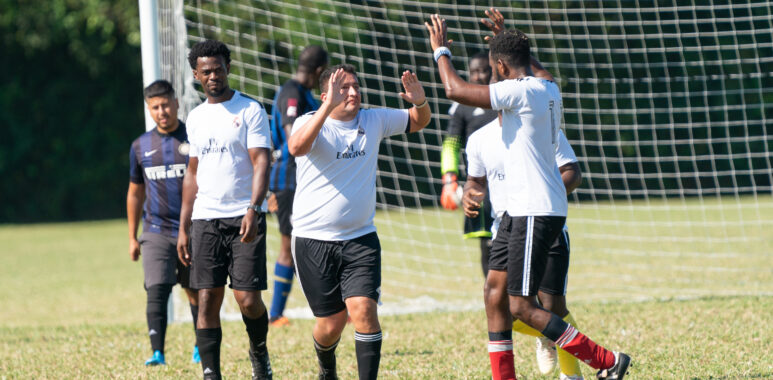 Recreational Soccer League
Team Spotlight – Action Soccer Club
ASC (Action Soccer Club) was founded on the principles of camaraderie, friendship, and brotherhood. In early 2014, a group of soccer-enthusiasts formed a new soccer club, for the purpose of playing weekly scrimmages, relaxing, bonding and simply enjoying the beautiful game.
ASC grew from the passion and love for soccer of its founding members — Cog, Obichi, The Modus, Daddi, Bimbo, Emeka, and Ikenna — to play the beautiful game despite the modest number of players. In the past seven years, ASC has grown tremendously. What started off with just 8 members, has grown to 50+ members!
At first, ASC regularly met and played at several other locations until finally settling at Matzke Park, Northwest Houston, where they played for 5 years. Today, New Territory is where they call home. ASC has evolved from just men coming together to play soccer to a group of great brothers, who have watched each other grow and hit milestones in life E.g. marriages, births, career growth, etc. …You name it. Every milestone or achievement is celebrated as joyously and intensely as a beautiful team goal scored in the dying minutes of an intense game.
ASC boasts some of the "best football minds" in the game. But don't be surprised when the players show up with beer bellies and zero fitness ?. Come rain or the sweltering Houston heat, you can expect ASC to show up and put on a good match, characterized with lots of laughter and banter.
Joining SLN's Recreational Soccer League has been a major "first" for ASC. It has given the team an opportunity to prove their mettle against other recreational teams. Preparations started with a pre-season friendly game which they won. The effect was like an adrenaline shot in the arm as the wave of confidence that engulfed the team was infectious.
The League games to date have been quite interesting. The first game against DC Eagles was a tale of two stories. With ASC initially racing to a 2 goal lead in the first half, the euphoria came crashing down when the final scoreline ended in a 2-3 loss. The second game with Cullen FC also started on a high with 1-0 lead in first half, and ultimately ended as a 1-1 draw. With these scorelines, the next fixture is a must-win game for ASC to stand a chance of moving to the next round.
Two things could either happen – (1) Give up, pat themselves on the back and go back to casual playing, with cups of beer in hand… OR (2) pull themselves up by the bootstraps, work on building a more resilient team, and continue to improve.
From all indications, ASC appears to fall in the latter group. The unmistakable glint in the eye is obvious …The will to win, …prove themselves. The team views the first two games as lost opportunities but more than ever, they intend to rise to the challenge. This will involve working more as a cohesive unit, be better organized, and maintain disciplined gameplay. The proverbial rubber has now hit the road. There is now an official call to action for the football minds of ASC to ball, and not banter.
The next fixture is the return leg with Cullen FC on 9th October. Will the stars align? Can they pull it off? After the final whistle is blown and the dust settles, who will be left standing?
…We shall see!