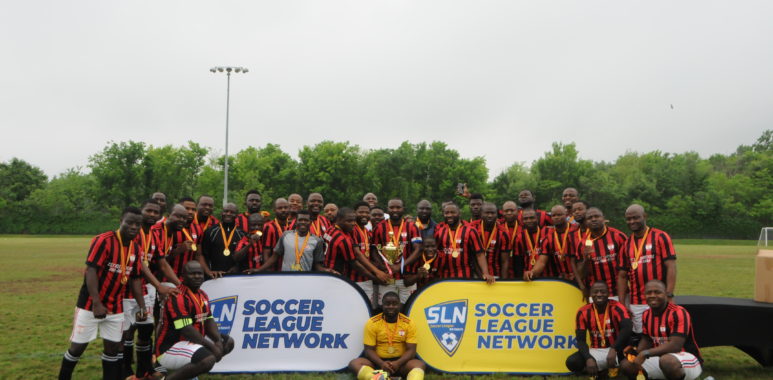 Recreational Soccer League
MFC Crowned League Champions!
On 6th April 2019, MFC proved themselves as worthy champions by defeating DC Eagles United with a 4-2 score line to claim the league title. The finals was reminiscent of a typical local derby game, with both teams dressed in their home kits (red/black and blue/black) and a relatively long history of match duels between them.
Emotions particularly ran deep within MFC as the win was the perfect way to dispel the loss suffered to Cullen FC, who won the previous season at MFC's expense. Winning the tournament this time was particularly special, as MFC was able to achieve this feat with an unbeaten record in all games (7 wins and 2 draws).
The game started with SLN's traditional match processions, player and referee handshakes and team pictures. Once the pre-match cordialities were over, the player moods switched immediately to battle mode. As anticipated, the entire game was feisty and breathtaking to watch as all players on the field contested for every ball, while covering every square inch of grass. MFC opened up the scoring within 7 minutes of play with a perfectly placed through ball by Henry Okorie and a perfectly timed run by the main talisman and league highest goal scorer, Ridwan Adewusi – who slotted the ball in with relative ease. DCE United mounted a comeback by contesting an aerial ball from a perfectly weighted corner kick, which resulted in an own goal. The battle continued through the first half until Ridwan received a pass and darted in-between DCE's defenders to score another goal in the 35th minute.
During the second half, DC Eagles United came roaring back and regained more control of the game. As expected of any derby game, players grappled with each other, threw their bodies at balls to deflect shots and fouls – two of which went DCE's way and resulted in penalties. Both fouls occured back-to-back within 15 minutes of each other and in similar fashion when DCE's speedstar, Ife Adebiyi broke past the defenders and charged through the box. In a bid to catch up and keep the winger off balance, the resulting contact with his trailing legs resulted in a foul which was adjudged a penalty. DCE lost the first penalty, while the 2nd resulted in a 2-2 scoreline prior to the end of the game.
Once the whistle was blown to kick off extra time, MFC was able to utilize their strong squad depth and pile on pressure on DCE. The 3rd goal came from a corner kick and a crashing header by Ridwan Adewusi. During the last 7 minutes, he added yet another goal to bring his season tally to 11 goals.
As anticipated, the match was an epic game to watch and the trophy presentation equally fantastic to see, as both teams interacted afterwards with mutual respect.